You want your wedding — and your wedding venue — to be picture perfect. The Casitas Estate in San Luis Obispo has not just one or two Instagram-ready backdrops for your special day.
Our luxury wedding and lodging estate has NINE!
Over the years, we've had the privilege of having many special weddings and events at The Casitas Estate. We're thrilled every time we hear the comments (and see the photos) from photographers, videographers, wedding planners, and guests alike saying how excited they are to have so many beautiful spots in one location.
So, if you like the look of pretty outdoor scenes but want something more than a barn setting, our seven-acre Spanish-style estate has much to choose from. Everything from an idyllic oak tree grove and a vineyard to a beautifully tiled lap pool and courtyard with a star-shaped fountain. And our succulent wall may have you falling in love all over again.
Won't you come along as we take a tour of the property and share 9 Instagram-worthy backdrops for your own SLO wedding or lodging visit with us?
Let's get started!
01. The Oak Tree Grove. A shady spot for special shots.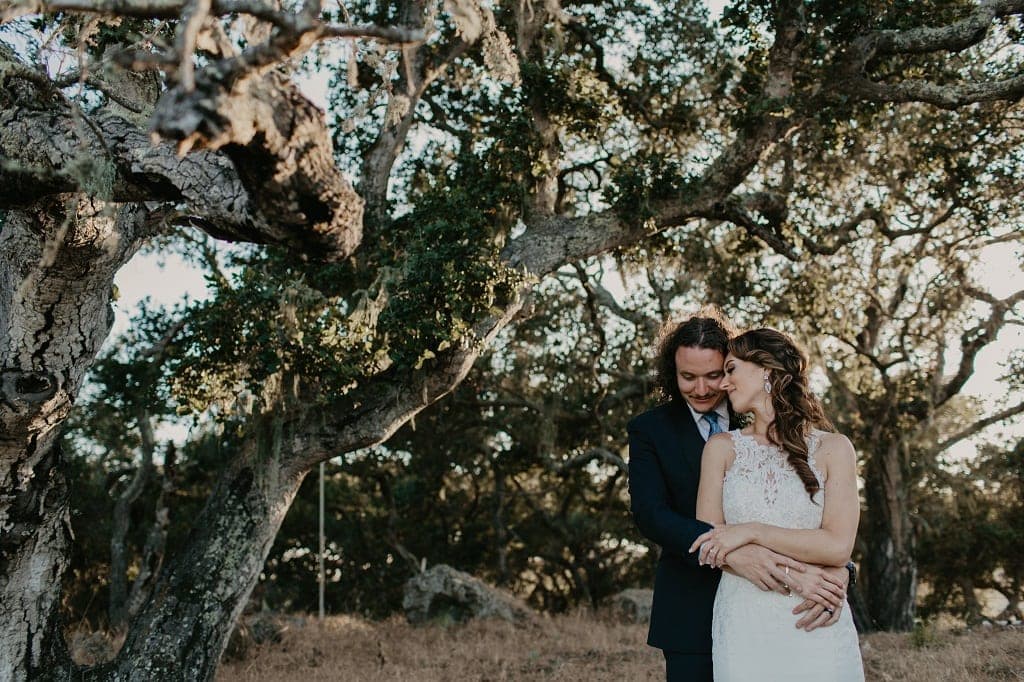 What's pretty spectacular about our oak grove is that it is hidden from view, but it's literally only 100 feet from the reception area. We also have a hauntingly gorgeous grove up at the top of our estate where the evening light is stellar. It's a great place for sunset photos. (See the Sunset Hilltop section for more.)
The shade in the oak tree grove is your friend when you are attempting to take pictures during the day. It keeps you cool so you can enjoy time with friends and family during your event, and the diffused light makes for some beautiful shots.
02. Succulent Wall. Frame your day with luscious greenery.

If there's one Instagram-worthy place that may be the most beloved at The Casitas Estate, it's our succulent wall. Years ago, we planted a range of succulent plants on the vertical instead of in a traditional garden. The results, we have to say, are spectacular.
It's a favorite place for photo booth backdrops, family portraits, bride & groom shots, as well as tons of selfies. The colors and textures change from season to season — and sometimes we even share babies from the mature plants!
If you'd like to create one of these on your own, you'll love our earlier feature on how to create your own. blogpost HERE
03. Sunset Hilltop. Take in the views as you gaze at your beloved
Looking for those adorable shots where light is permeating right through your romantic kiss on the first day of being married? We have an incredibly beautiful but natural hilltop with both open vistas and yes, those mossy oak groves, too — winning multiple choice awards from your photographer and videographer to capture those " money shots" on your wedding day.
While much of our estate has lush gardens and a healthy vineyard, we love that there are also these lovely untouched natural settings here at The Casitas Estate. We like to think we give you it all in one really unique and special place for your wedding ceremony, reception, or special event.
04. Redwood Garage Doors. Rustic, rugged, and ready to support.

These vintage babies are a hotspot for groomsmen captures, just saying! The dark woods and rugged feel paired with the Spanish hacienda architecture make it a great spot to capture the essence of your private estate wedding here.
They're also the perfect frame for your entire wedding party.
Cool and serene, the location is a great backdrop even on the sunniest of days.
05. Front Courtyard. Serene setting with fountain, tile, and secret nooks.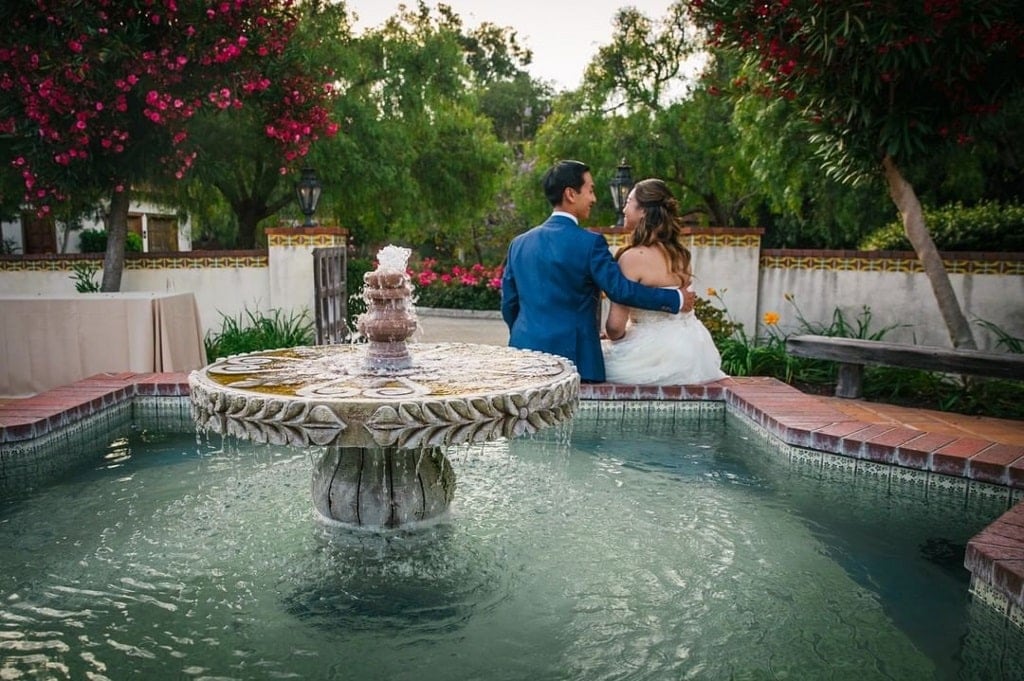 The details are plentiful here. How about the soft trickle of water from the large star fountain?
The Talavera tiled trim work, the terra cotta lined courtyard, and little hidden alcoves? These are all nestled in by our ancient-looking red cedar corbels. The setting provides so many architecturally stunning choices and backdrops for your wedding party photography as well as for your guests enjoying your day.
Most cocktail hours are held here and the area captures fun and romantic moments alike, providing so much warmth — and wonderful memories. It's a cozy spot but deceivingly spacious. And, it shows in every Instagram-worthy post including it.
06. The Vineyard. Grapes, vines, and views.
We know many winery owners in the area, and they've shared that they receive calls weekly from couples looking for vineyard ceremony settings. The issue is that winery tasting rooms are typically open until 5:00 or 6:00 pm, and that's often their best hour financially.
While they want to accommodate weddings, they have a hard time closing during this time. This limits wedding couples to a very short reception window.
Our love of wine gave us the idea to convert an open vista on our estate into a gentleman's vineyard. Here, your guests feel like they are enveloped in the vines (with grapes on two full sides of the ceremony lawn).
The best part of this Insta-worthy spot is that there are panoramic views of our Santa Lucia mountains, coastal oaks, and the Syrah grapes themselves. It's so fun to capture moments here in the vines. And as you'll discover with our Succulent Wall, the colors and textures change with the seasons.
07. The Stairs. Artful steps with colorful tile.

So many adorable Instagram-worthy posts of the Casitas Estate show off the colorful tiles located in every step that leads to our vineyard, pool, and bocce ball court.
It's so beautiful when the bridal procession is coming down to the vineyard to start the ceremony. And one of our favorite images is when the bride and her dad are arm-in-arm, sharing a special moment as they make that last trip together before his little girl is married and a new chapter begins.
Equally lovely are close-up shots with a couple sitting casually on the stairs or fun moments with the tiny ringbearer and flower girls. Details like these colorful tiles really highlight the feel of the Spanish estate that The Casitas Estate was created to reflect.
08. The Pool. Relax, unwind, and reflect on your perfect day.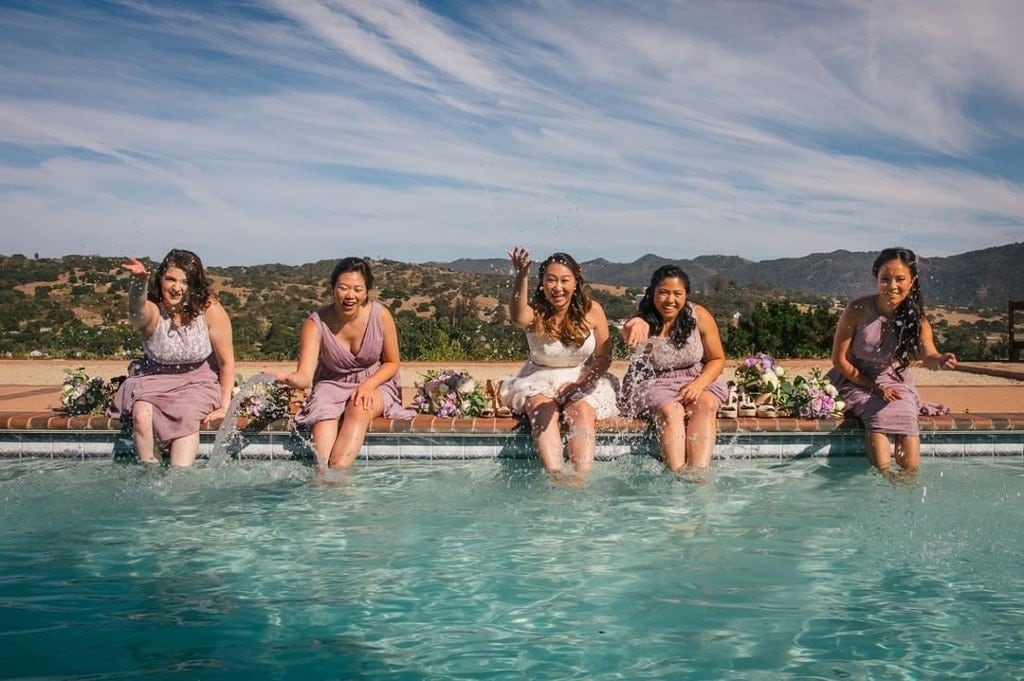 Not every wedding venue offers a 25-meter lap pool, but The Casitas Estate has a tranquil pool alongside an infinity bocce ball court. Each provides a beautiful backdrop, of course, as well as a great way to get a workout, relieve stress, or challenge your SO to a challenging game of this classic Italian pastime.
Combined with the views of the Santa Lucia mountains and Talley Vineyards and Talley Farms fields below, it's also quite the scenic backdrop for another Instagram worthy photo here at The Casitas Estate. Both the pool and bocce court are great spots to grab a crowd of friends for a group shot or have your bridesmaids show off their matching robes and dip their feet in the pool and chill out.
Most beautiful, in our opinion, are the quiet, reflective images captured of the bride and groom moments after they married. It can be an overwhelming day, but when we see our couples on Instagram reflected in the pool, everything seems right with the world.
09. Your Very Own Casita. A luxurious home away from home.

The four little luxury houses, or casitas, are what gives The Casitas Estate its name. Each is a beautiful respite from the bustle of the day, and the interiors are not to be missed.
Capturing a sneak peek for Instagram of the bride and her girls enjoying a casita as they get ready for the wedding is always wonderful, and sometimes quite comical. Most of our wedding couples and lodging guests alike may select The Casitas Estate for the views and amenities we offer, but later say that it is the relaxing time they enjoyed here for a weekend that truly made it a special, memorable experience.
Which scene is your favorite? Come and include it in your own picture-perfect memories made right here. It's one time when Instagram will match real life.
Nine Ways to Make Your Wedding Unforgettable
As you plan the many details of your wedding day or special event, our nine Instagram-worthy backdrops at The Casitas Estate are ready for you to explore.
Check out our packages and choose the one that is best for your special day.
[button link="https://www.casitasestate.com/packages-rates/" color="black"] Our Packages[/button]
We're here to help
We take pride in the personal touch we provide at The Casitas Estate. Here are a few other articles about our venue we think you might like.