at the Casitas Estate, San Luis Obispo
Your love for each other is huge. Your wedding doesn't need to be.
When you've found your One and Only, you know that is all that matters. 
If a big wedding, hundreds of guests, stress, logistics, and a huge budget aren't part of your vision, we're here to help you create the wedding that matters to you.
Eight Big Reasons to Consider a Micro Wedding
Design your wedding the way you want it. When it's small from the beginning, you can focus on what you really want (and not worry about offending those offering well-intentioned advice).
Reduce your stress and planning time. No need to start planning a year in advance to book a prime weekend. It can be as easy as picking a weekday a few weeks out and having your special people meet you here. 
Stretch your budget. Even if you have set aside a large wedding budget, with a micro wedding you can use your funds on what really matters to you.
It's all about quality, not quantity. This is especially true with the time you're able to spend with your attendees. Your micro wedding allows you to truly enjoy every moment with the people you love — and who love you — on this special day.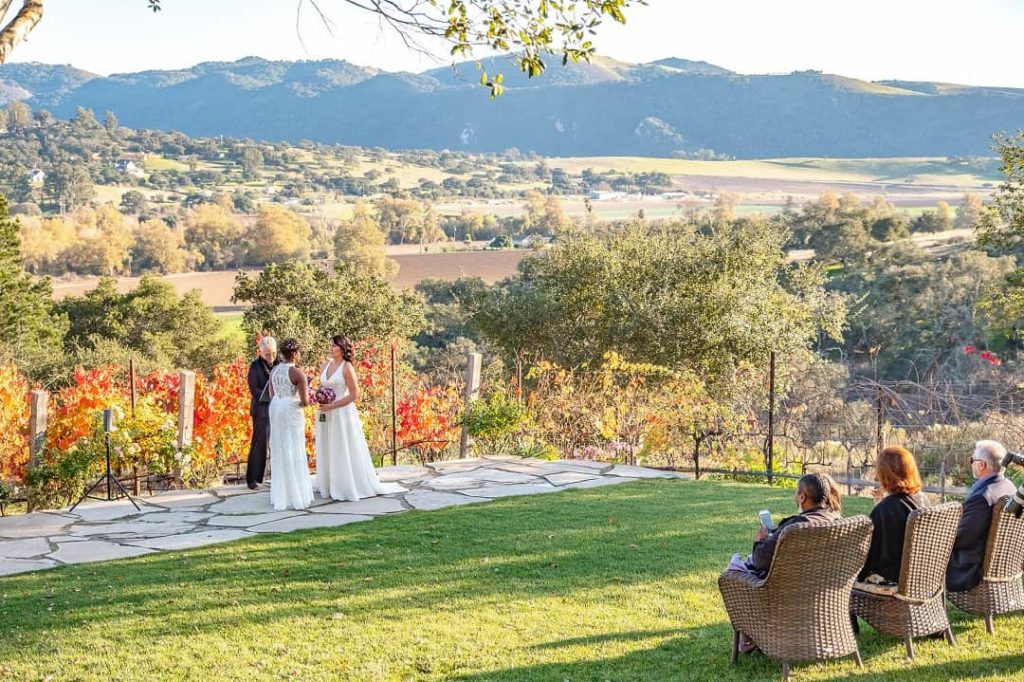 Be free to be you. You can start with cocktails and relax with your guests as they arrive. You can exchange vows after dessert. It's all up to you.
Enjoy flexibility and options. Instead of being limited to 52 weekends, you can choose from hundreds of days for your wedding. Plus, having your wedding on a weekday helps you book the photographer, caterer, and bakery you most want.
Experience a truly personal milestone. This goes both ways. You're inviting just a handful of the most special people in your life. They mean the world to you. And you mean the world to them.
The future is open. You can host a big party later… or not. It's all up to you.
Planning Your Micro Wedding at The Casitas Estate
Your micro wedding captures the essence of what's important — celebrating your love for each other and sharing this moment with a few special people.
Here's all you need to know about planning your intimate ceremony at our luxury estate wedding venue near San Luis Obispo.
Micro-Wedding Package
Attendees: up to 10 guests*
Days available: Sunday through Thursday
Timeframe: two full hours for your special day: ceremony and photography
Ceremony locations: overlooking our estate vineyard, under the oak grove, around the fountain garden, on the infinity lawn
Cost: $1500
*Additional packages are available for up to to 50 attendees. Inquire about other days of week, meal options, availability, and pricing.
Looking for a SLO Micro Wedding Planner?
If you're considering a micro wedding here and want assistance with a planner who specializes in organizing small, special events, we recommend SLO Pop-up Weddings.  Korinna Peterson and her team will help you create your unforgettable intimate ceremony.