Since you all liked my top 5 Rehearsal Dinner Options, here's another top 5 list to share!
We feel so lucky to be hosting weddings here on the central coast, not just because we live in San Luis Obispo, but mostly when I think of the people that live here that we easily now call friends. We love the crowd we get to work with as a small boutique inn and of course, each wedding season, as a venue. And, it's kind of fun being the older fun people with so much enthusiastic young energy amongst our vendor community.
Couples booking here at The Casitas often ask us for unique ideas or what's worked well so their guests have a blast. They also want to offer something different for their reception in a sea of besties that are newly wed. Have you thought about adding some of these fun vendors to make your wedding memorable on the big day?
Spencer Sarson Visuals –Videos Gone Wild!
I was introduced to Spencer (a Cal Poly Grad!) from our Knotcrashers bridal fair event held here last February. It was the first time I'd seen a slow-motion montage used to bring guests of all ages together to share a creative and fun memory at any wedding reception (or party). If you've asked yourself where photobooths are going, this is sure one fun answer!
Spencer is also so talented with videography, with another example of his work here shooting the ceremony setup details, ceremony and reception for a wedding.
I think Spencer's philosophy is right on, "Personally, my belief is that art is not about the physical piece. Instead, it is about the feelings behind it, the time spent creating it, and the methods expressing it. That's why I believe anything can be seen as artistic – it just depends on who's looking." I think his work captures so much feeling – be sure to take a look at Spencer's talented work and website.
Cigar and Whiskey Bar or Specialty Bar
Not for everyone, but when a groom or side of the family really has an affinity for a specialty drink or activity, it really sets a great mood. Sometimes it's not even cigars, we've had salsa bars, sushi, and tea bars here as a homage to family businesses or to offer that special something. The image below is just one fun example styled by one of our SLO Wedding Planners, Janet Tacy of Sandcastle Celebrations. It was the whim of the groom and man, oh man, did his brother in laws enjoy it! "Fireball!" could be heard for months following the event.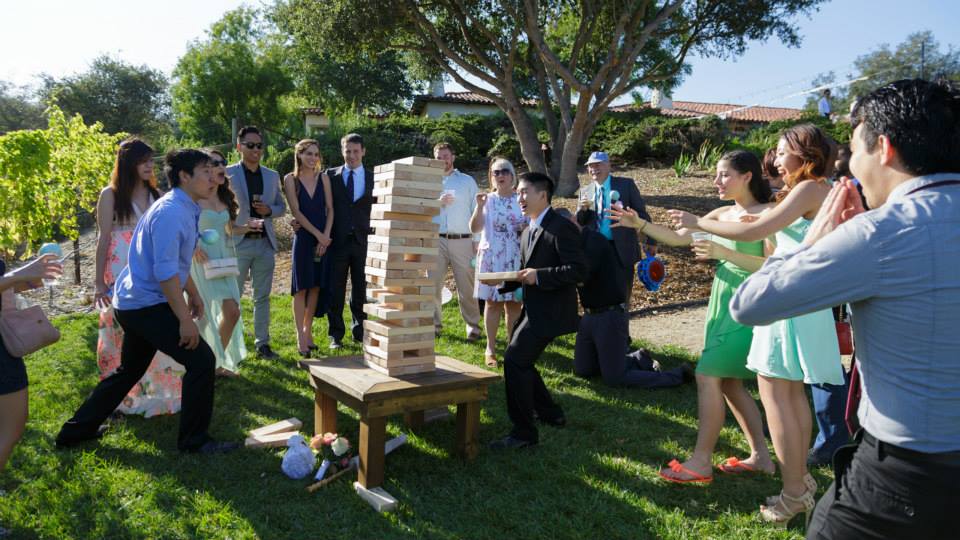 You Know I had to include Games! It's not just Jenga anymore!
While I get that some couples want a classy event and often times, with the cost of weddings, children are not invited, games are still a big hit EVERYTIME! We have had the benefit of seven different games with a 'kid wrangler' for a wedding with 30 children but we've also seen the fun a 'no kids' crowd has during cocktail hour and the reception playing with old and new acquaintances at weddings and corporate events. What's nice is that many of these can be a DIYER project for a handy friend or family member (and yes, often the groom!) but we also have a great local rental company that simply drops it off and has it waiting at your event so…let the games begin! Shenanigans' owner, Lisa Hess, can set you up!
Treat your guests to espresso and macchiato!
There are several wonderful barista companies here locally that will add a Tuscan feel and yes, break up the alcohol consumption later in the evening. (A big plus, trust me!)
One great family run vendor that we are happy to have here locally is The Coffee Diva. Their elegant brass and copper espresso machine really sets the stage for your wedding, corporate, or special event. Making wonderful espresso drinks, artfully served by professional baristas, is an awesome complement to your special occasion. Their menu items include drinks from cappuccino (made with ILLY® espresso from Italy) to caramel macchiato, hot-spiced chai, and even iced blended signature drinks like their Mocha Diva and Chai Goddess.
Doc Burnstein's Ice Cream
Maybe you are completely over the cutting of the cake and are craving something different and truly yummy for dessert? Maybe you or your SO are totally addicted to ice cream and decided you would like to share that passion? It's become a very cool option here at The Casitas Estate (pun wholeheartedly intended!)
We are very lucky to have an authentic old-fashioned ice cream parlor called Doc Burnstein's Ice Cream Lab here in town! Serving up handcrafted ice cream and sorbet with a mobile scooper and stand that is set up right in your reception area. Sure they have an award winning vanilla, but also feature fun one of a kind flavors like the "Elvis Special", "Merlot-Raspberry Truffle" (made with real Central Coast wine – just a little) and "Motor Oil" (custom created for the Pismo Beach Car Show). This is another great idea I had to include, enjoy a scoop while you consider it.
Of course I have plenty more great vendors and ideas to share, but the main thing is to think about this being your own 'golden ticket' — A day to make your own with things you want to share with your friends and family. Will you write and let me know if you had a cool idea? As Emerson so eloquently put it, "Life is a Journey, Not a Destination." I believe the same can be said for the planning stage of your wedding.
Have fun Kids.