Now, at the start of the height of wedding season, it's really an exciting time for us. We have the estate popping out in color, have reworked landscaping, and see the positive impact of many of our winter projects.
We also have many couples visiting us to finalize their vendor meetings here on the property getting ready for their rehearsal dinners or wedding receptions.
We are lucky to have very thoughtful and creative couples that also ask our advice about how to make their destination wedding fun and interesting for their guests, many who are not familiar with San Luis Obispo and our lovely region.
It occurred to me that both Tony and I have had a ton of fun exploring here and I'd like to start featuring many unique tours and lesser-known activities that may spark interest for your wedding guests. It also might be really fun for locals here that aren't always aware of the newest places popping up.
For my inaugural feature, I wanted to share a special find after I recently took a tour with friends at Stepladder Creamery. Jack, the owner, previously worked in high tech in the bay area but relocated to his grandfather's avocado ranch in Cambria. His 'hobby,' which started with a handful of goats making artisan cheese from home, has now become his full time passion with a new year-old business and fully operational creamery and dairy facility (which is great news for all of us cheese lovers, trust me!). The best part is you can arrange a private tour of the farm and dairy for friends or guests! A bonus during this time of year is from February to July the dairy births dozens of baby goats, aka "kids," that tour guests can cuddle, kiss and bottle feed (bottle feeding depends on the time of day of your tour and the season).
I love this for many reasons: it's wonderful artisan cheese, a unique tour, the grounds and staff are warm and welcoming, and it just screams why we all love the central coast –the setting is beautiful and the entrepreneurial spirit is alive and well. (AND, you get to try and buy their cheeses!)
Here are specifics about their tours:
Stepladder Creamery is a small farmstead artisan goat dairy and creamery situated along San Simeon Creek in Cambria, California. They specialize in traditionally crafting small-scale, handmade cheeses with milk from pasture raised cows and their very own herd of very well-loved Lamancha goats. (These little guys are so cute and friendly too).
They currently offer private creamery tours daily that are a wonderful way to get to know their friendly herd of LaMancha goats and tour the milking parlor that was built inside of the ranch's historic 100-year old barn. Tour rates vary depending on group size, and typically run $25 – $30/per person (minimum tour rate is $100).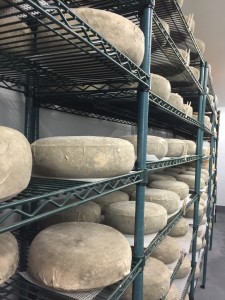 The private tours are 1-hour long and will give you a unique and personalized opportunity to see what's happening inside of the creamery. Guided by one of Stepladder Creamery's staff members, learn about the science and art of cheese making, and conclude your tour with a tasting of their seasonal goat and cow's milk cheeses.
Pat's Tip: If they have any of their honey (also made 'onsite'), BUY SOME! It is delightful—and they make awesome hostess gifts. Fromagerie Sophie Cheese Shop in SLO also carries Stepladder's cheese and honey and it sells out quickly. My friend Sophie astutely surmised that Stepladder's bees and their proximity to grandpa's avocado orchards must account for the wonderful creaminess I fell in love with at the tour and tasting.