Tips to make the most of your visit.
A few of our favorite places to stop along the way.
Test your Hearst Castle with our Trivia Challenge. Good luck!
One of the great things about being on the Central Coast is that Hearst Castle is only about an hour's drive from The Casitas and the San Luis Obispo area. It makes for a fun, easy day trip.
We've been fans of this larger-than-life architectural marvel for years, with its famous Neptune Pool, two-towered Casa Grande, guest cottages, and other buildings collectively known as La Cuesta Encantada ("The Enchanted Hill").
Imagined and built by William Randolph Hearst and architect Julia Morgan from 1919 to 1947, the 127-acre estate sits high atop the hill overlooking San Simeon and the Pacific Ocean.
Over the years, we've taken many tours at Hearst Castle – even prior to opening The Casitas in 2008. We always love going back – there's always something new to learn (and see) – and we find that even if it's a tour we've done before, each docent shares new information we didn't know.
Whether you're ready to schedule your first tour or you're an experienced visitor of Hearst Castle, we share our tips for visiting and getting the most out of your experience. Plus, we include a few of our favorite extras to make your day trip even more fun.
And don't miss our Hearst Castle Trivia Challenge! Let us know how you do.
From The Casitas, it's 55 miles on the quickest route up Highway 1. Allow 90 minutes travel time for a leisurely trip.
Tours available (check schedule as tours vary seasonally):
Visiting Hearst Castle: Tips and Tours
Here are a few of our tips to make the most of your visit.
If you can assemble a group of friends or lodgers, Hearst Castle offers a private tour for up to 6 guests for up to 4 hours! (How about considering a buyout weekend at The Casitas? Contact us for available dates!) The $1,000 private tour works out to be just $166 per person for a group of six, and you can really customize where your group wants to go! Tony and I were included on one of our guests' tours a few years ago and it was pretty fabulous!
In addition to the castle, Cambria is a smaller town that's fun to explore, whether on the way up or back. It has many art galleries, some sweet restaurants like Robin's, and charming gardening and antique shops, too.
Take time to see the elephant seals near Piedras Blancas lighthouse – just another ten minutes north of the castle. This is definitely worth a stop to have their docents share some really cool facts with you.
3 - Go early for the movie.
Every guided tour ticket includes the showing of "Building the Dream" on the visitor center's five-story theater screen. If you haven't seen the film before, it really gives you a good history of William Randolph Hearst's formative years and passion as a collector of art. It creatively combines original cinematography and vintage clips showing a lot of the construction and history. If you can't see it before the tour, do try to see it afterwards. The movie runs about 40 minutes long.
Tours do sell out, so it's best to book your tour tickets online. As of this writing, you can reserve tours up to 60 days in advance.
You can't eat during the tours, but you can bring a bottle of water. We suggest doing that, as many tours will be meandering outside in the bright California sun (and you can save the $4+ charge for water in the cafe and use it to buy a cool souvenir instead).
As you approach Hearst Castle from the south on Highway 1, keep an eye open for the Hearst herd of zebras roaming the rangeland with the Hearst herd of cattle.
Out & About: Hearst Castle Day Trip Options
To round out your Hearst Castle day trip, we share a few of our favorite places to stop along the way.
Wine tasting at Harmony Cellars
On the way up or back from your Hearst Castle day trip, stop by Harmony Cellars for a tasting flight or a glass of wine. Owners Chuck and Kim come to The Casitas every year for a celebratory anniversary staycation, and we love visiting their tasting room (and recently joined their wine club!).
Located just up the hill from the tiny (and adorable) town of Harmony, the winery creates a range of great wines. Sit outside in the grassy tasting area, or see if you can get a seat overlooking the valley, as we did with our marketing team after our day of castle tours!
Lunch stop at The Cruiser food truck
Thursdays to Mondays from 11:00 to 3:00, don't miss The Cruiser food truck that sets up outside the Hearst Ranch Winery in San Simeon. Operated by Field to Table Catering & Events, they turn out delicious, fresh, and creative sandwiches, tacos and burgers.
Lunch or dinner in Cambria or Cayucos
These fun, artsy towns have several good restaurants worth exploring. We recommend Robin's in Cambria & Lunada's in Cayucos.
Moonstone Beach walk in Cambria
If you have time for a beach walk, Moonstone Beach in Cambria is a treasure to explore. Known for its pebbly sand and sea glass, the waves are wild. Or, check out the boardwalk that runs north-south along the cliffs with great views of the ocean.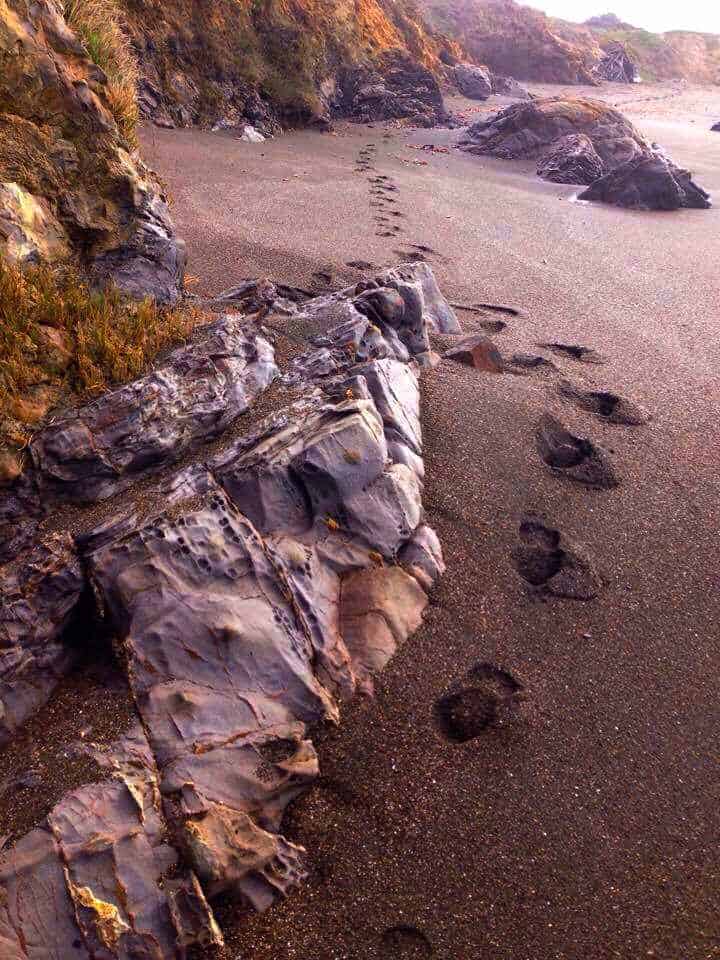 Hearst Castle Trivia Challenge!
In 1919, William Randolph Hearst and architect Julia Morgan began the dream of building a fabulous estate on his family's ranchland overlooking the village of San Simeon. Named "La Cuesta Encantada" (Spanish for The Enchanted Hill), by 1947 the hilltop complex included a twin-towered main building, three sumptuous guesthouses, and 127 acres of terraced gardens, fountains, and pools.
Test your Hearst Castle with our Trivia Challenge. Good luck!
1 - The surface around the Neptune pool is made from a combination of marble and which California state rock?

A. Limestone
B. Serpentine
C. Sandstone
D. Agate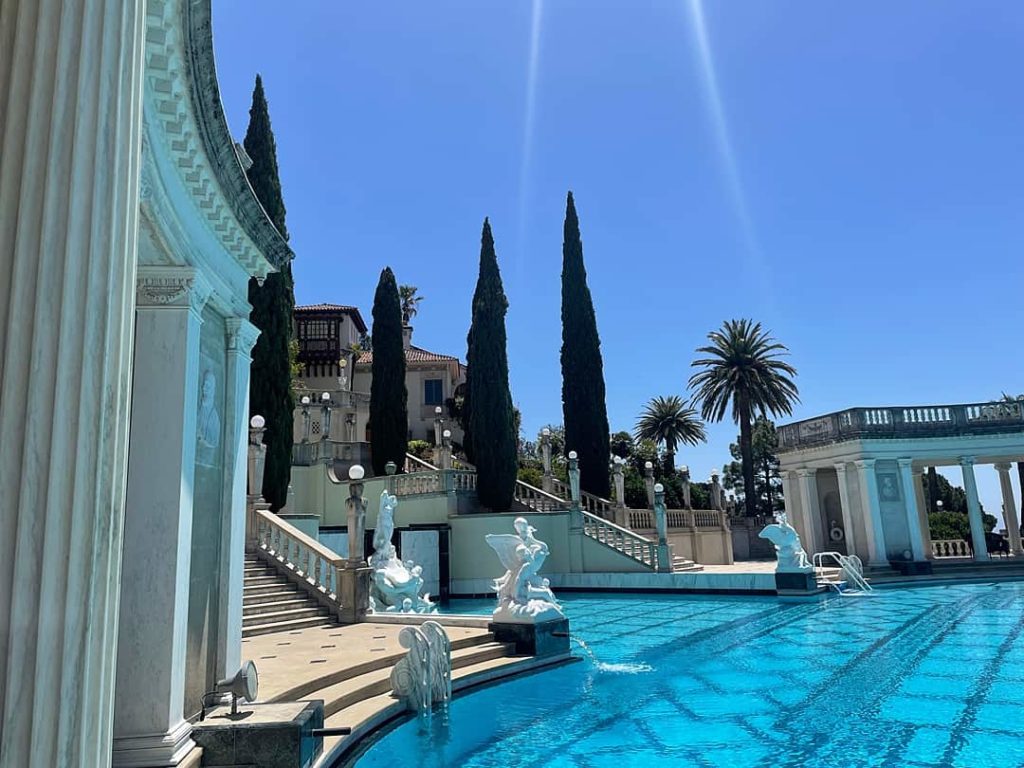 2 - What is the oldest art piece that William Randolph Hearst collected and has displayed at the Castle?
A. Venus Italica
B. Sekhmet goddess sculptures
C. Rest on the Flight Into Egypt
D. the Deeds of Scipio Africanus tapestries
3 - What year was Hearst Castle completed?

A. In 1947, when Hearst's health was an issue and he left the castle for the last time.
B. In 1951, the year William Randolph Hearst passed away.
C. In 1958, when tours officially began and the Castle was turned over to the state.
D. never
4 - What room in the castle is bigger than most American houses?
A. The assembly room
B. The dining hall
C. The movie theater
D. William Randolph Hearst's bedroom
5 - What was the only film made at Hearst Castle?
A. Citizen Kane
B. The Godfather
C. Spartacus
D. House of Gucci
6 - To say Hearst Castle is inspiring is an understatement, with over 23,000 art pieces on display. What famous movie series used the castle's dining room as a design model?
A. Pirates of the Caribbean
B. Indiana Jones
C. Harry Potter
D. Black Panther
E. Back to the Future
7 - Which famous actor was kicked out during his stay for having "one too many drinks"?
A. Charlie Chaplin
B. Groucho Marx
C. David Niven
D. W.C. Fields
8 - Where does Hearst Castle get its water?
A. Deep wells on the property
B. Artesian springs
C. Piped uphill from San Simeon
D. Private reservoir located 6 miles to the east
9 - How many gallons of water does the Neptune pool hold?
A. 345,000
B. 289,000
C. 518,000
D. 187,000
10 - Architect Julia Morgan worked alongside William Randolph Hearst for 28 years creating the buildings and art placements for Hearst Castle. During her career, she also designed:
A. Hearst Greek Theater on the UC Berkeley campus (her alma mater)
B. Bell tower at Mills College
C. Asilomar Conference Center
D. Los Angeles Examiner building
E. all of the above
11. Spread over the 127-acre estate, how many rooms and types of rooms are found in Hearst Castle?
A. Casa Grande: 173 total rooms
B. Guest cottages: 62 total rooms
C. Total number of bathrooms: 35
D. Total number of bedrooms: 58
Come book at stay for your next adventure at the Casitas Estate today!
When you're looking for a special place to showcase your special day, The Casitas Estate provides the perfect place for your unforgettable day.