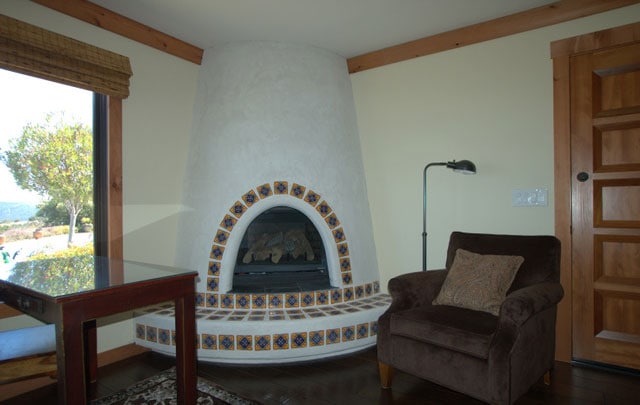 Cielo (Heaven) — def­i­nitely lives up to its mean­ing as the most secluded of the four casitas on the estate. Often the pre­ferred selec­tion for our brides and groom's first mar­ried night together. Often also enjoyed by the wed­ding party stag­ing before the ceremony.
Located down the Span­ish walk­way over­look­ing the Santa Lucia moun­tains and beside the lap pool, the vis­tas are panoramic here from every window.
Equipped with a king bed, queen sofa sleeper, pri­vate deck and gas kiva fireplace-moments here don't get bet­ter than this.
Each Casita fea­tures a pri­vate bath, patio with gar­den or val­ley views, DirecTV with HBO and other movie chan­nels, Bose stereo with iPod port, com­pli­men­tary Wi-Fi and fea­tures sump­tu­ous bed­ding with Ralph Lau­ren duvets and Compfy soft microfiber sheets.