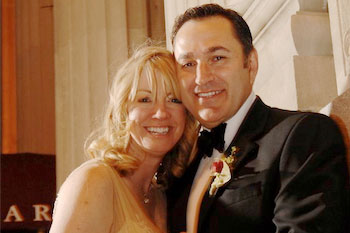 Meet Pat & Tony (Estate Owners)
We believe in not meeting your expectations, but exceeding them. We want not only you but every one of your family members and friends to be wowed by their experience here on your wedding day, here at The Casitas. We take great pride in making that happen.
Many have said that The Casitas Estate provides the perfect backdrop for romance, we wholeheartedly agree, and urge you to request a site visit to feel it for yourself. It's a special place and the venue you've been searching to find.
At the prompting of our "web guys" we were told we needed to write about ourselves. That being said… here's a little of "our story".
The first time we met was at a corporate dinner held at Hotel Del Coronado with a memorable Tiramisu for dessert. (It's a comical story if you have a chance to ask Pat!)
Tony was willing to take up diving (Pat's favorite hobby) and the rest is history, we are permanent 'buddies'! We were married in 2007 and resided in LA's historic Hancock Park district off Melrose.
Looking to start our second careers intent on personal enjoyment, our love of wine and the Central Coast brought us here to San Luis Obispo. We felt stress peel away on road trips here, the scenery reminded us so much of Tuscany. When we toured this private Estate, Pat silently mouthed, "I LOVE IT" to Tony. We knew immediately we had the right place to start our luxury wedding venue and lodging venture.